Download a Quality Insights Report


Save your Quality Insights report as a PDF file including its appendices to a device by clicking the Download Report icon.

The appendices of a Quality Insights report include the Patent List (Excel), Front Page (PDF), and File Wrapper.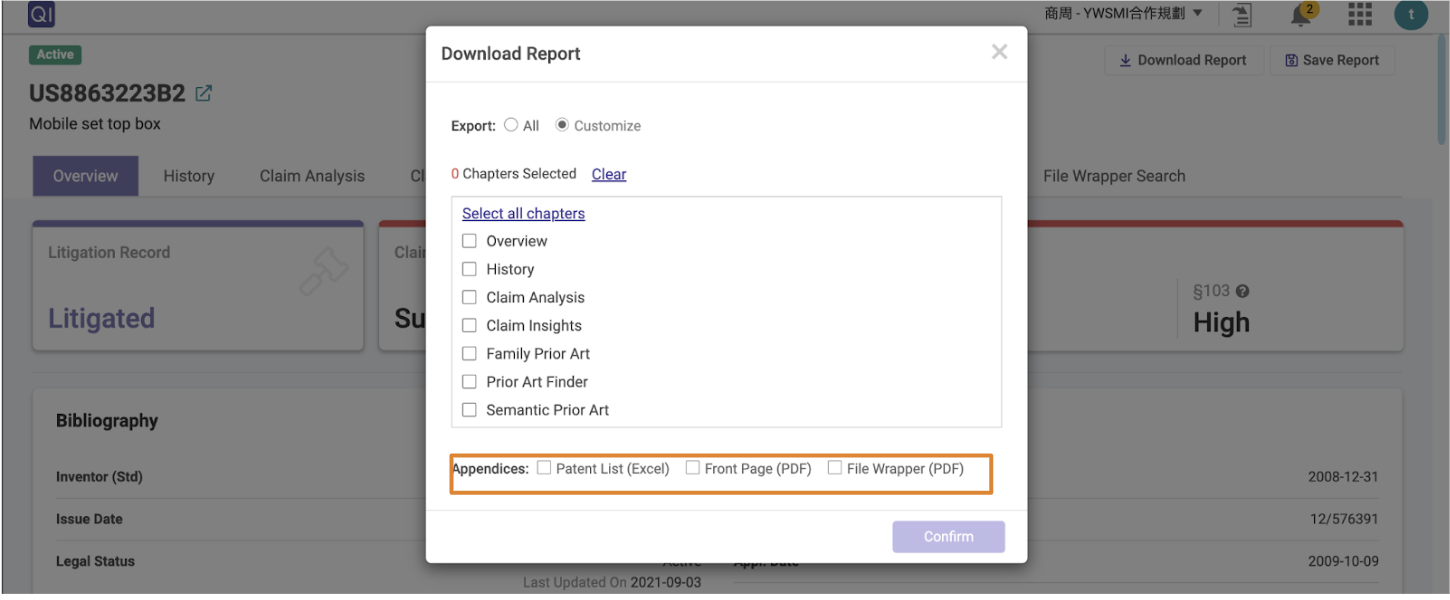 ---
Save a Quality Insights Report to Patent Vault


Share your findings with your team by saving your Quality Insights report to Patent Vault.
Click "Save Report"

Select the target Patent Vault project and set the access settings
Save

In Patent Vault, project members can access the Quality Insights reports they have access to.
---
Export Patent Lists to PDF or Excel
Export patent data to Excel or PDF for patent lists found in Family Prior Art, Second Degree Prior Art, and Semantic Prior Art.
When selecting the Excel format, you can customize the spreadsheet's contents by selecting the desired data fields before pressing "Export."

For more details, please see the Export article in Patentcloud's Help Center.
---
KEEP Mode — Activating KEEP
KEEP can be used in any of the prior art lists in the Overview, History, Family Prior Art, Prior Art Finder, and Semantic Prior Art tabs.
First, save the Quality Insights report in Patent Vault. Click on the KEEP Mode button and select a project name. The editable version of the Quality Insights report will then be opened in a new tab.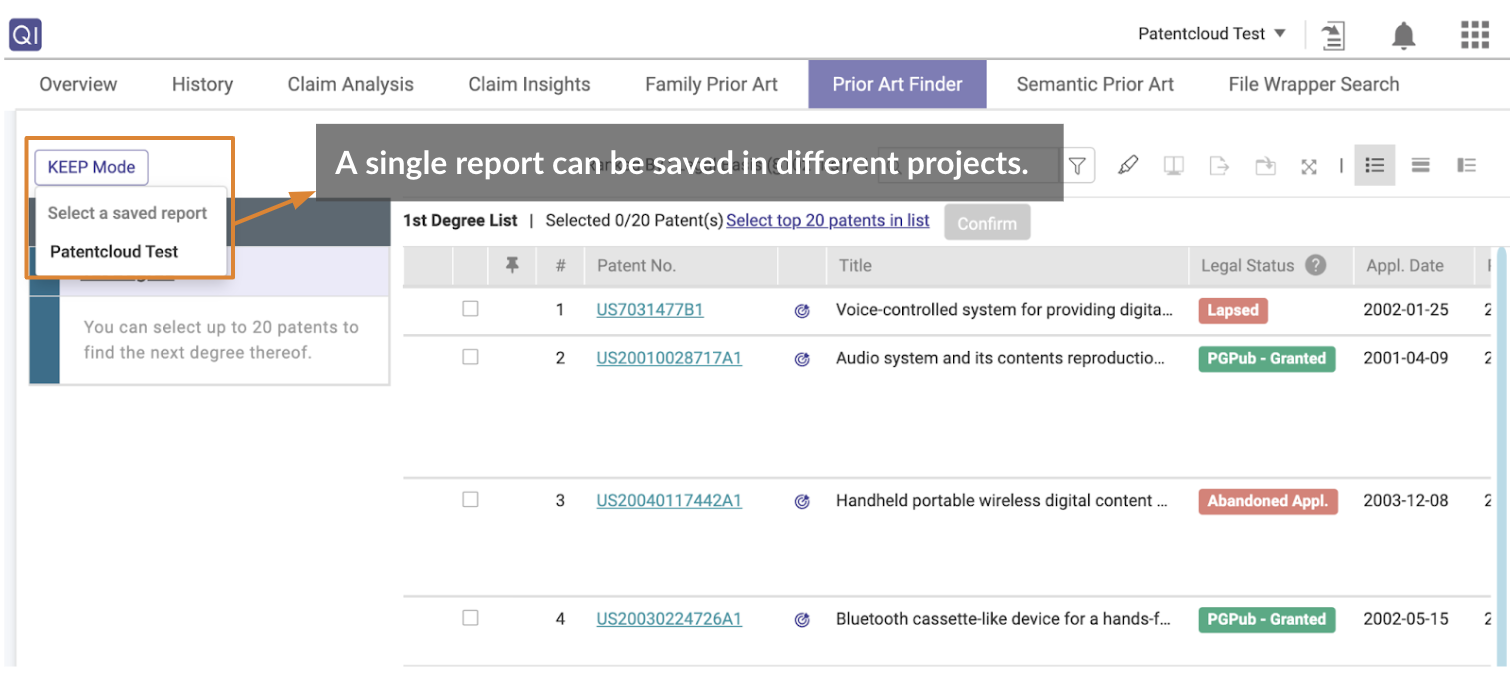 ---
KEEP Mode — Using KEEP and Viewing Patents in KEEP
The KEEP mode allows you to "pin" specific patents that can be reviewed later and shared with project members. Click on the KEEP Mode button to start pinning.

In KEEP Mode, click on the pin icons. The icon will turn purple when selected. Then, click on Save to KEEP.

To view the pinned patents, click on the KEEP button beside Download Report in the upper right corner of the report (visible in all tabs).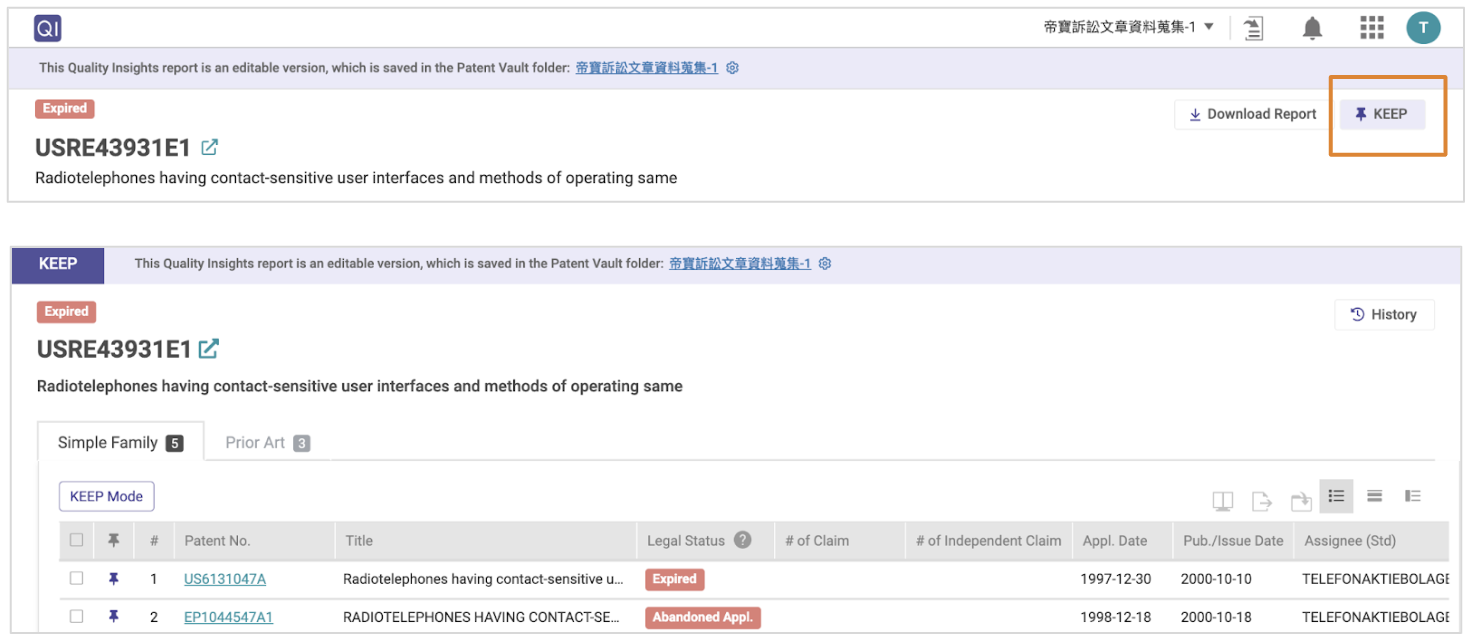 For more details, please see the KEEP article in Patentcloud's Help Center.
---
Manage patent data and conduct an advanced search within a batch of patents— Patent Vault
Dive deeper with Patent Vault
Directly import selected patents into Patent Vault for more operations such as: saving the patent portfolio into customizable folders for clearer organization, conducting a claim term search within a large batch of patents, and sharing Quality Insights reports with your colleagues.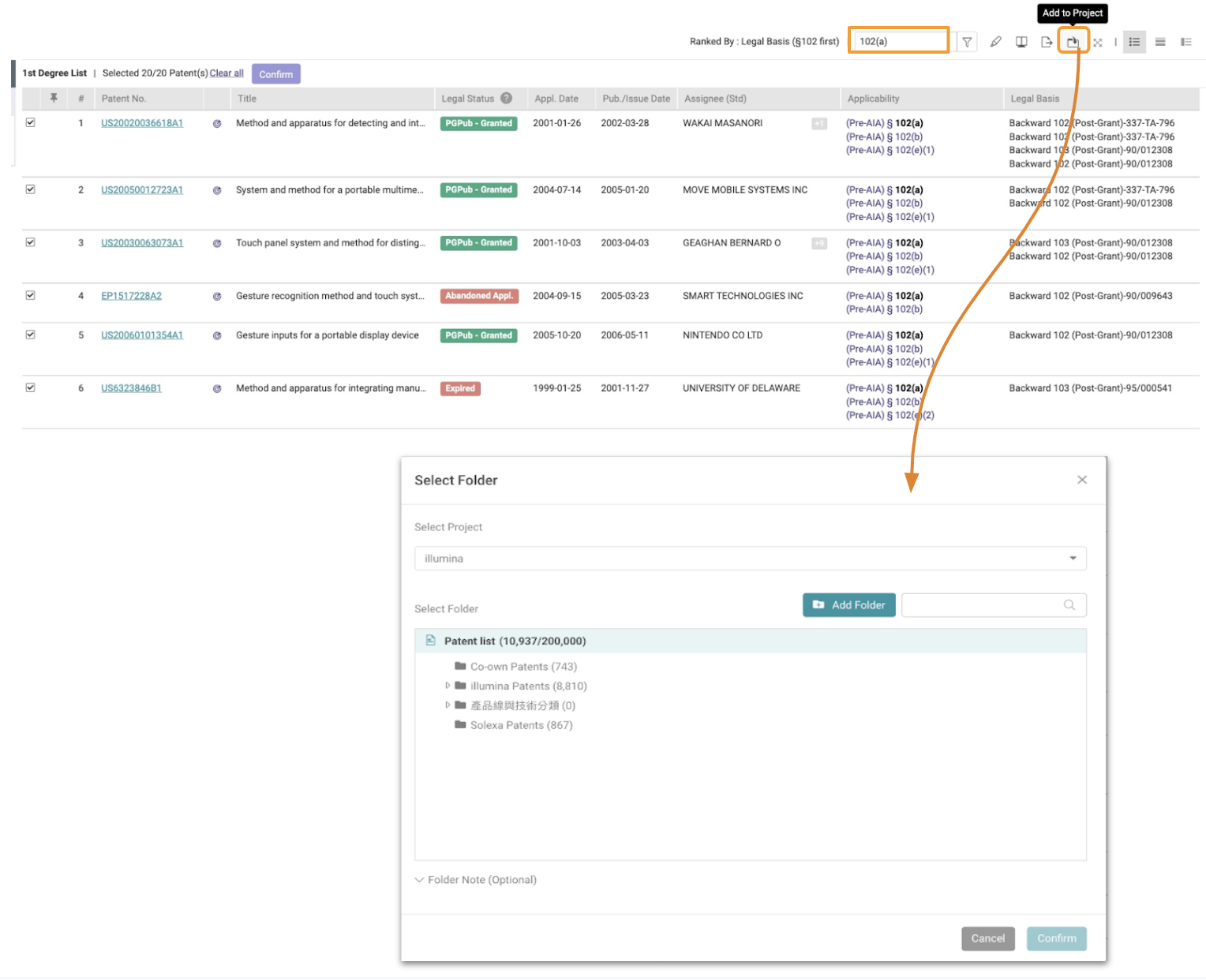 Simply click on any number or point from within the charts to bring up the patent list, select the patents that you need and click "Save to Patent Vault" at the top left corner of the pop-up window.
You can customize the folder structure by year, company, or any other categorization type you need.