When there are multiple projects in Patent Vault, the user can access them by clicking on the grid icon and selecting Patent Vault.

Users can then choose from their Project List or purchase more projects from this page.

Another method is to click on the drop-down list beside the Shopping Cart icon found on the upper right side of the page to select the required project.

For those with only one project in their Patent Vault, users can click on the

icon found on the upper right side of the page to access it.
Once you are on the Project List page, you can see all of the projects currently available to you. Each box shows basic information including access level and members.
The project manager has the following project controls: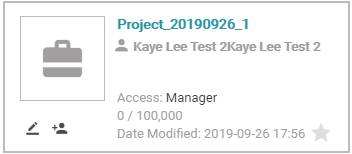 Edit basic information: Project Name and Memo

Add or delete members, change access levels, assign notifications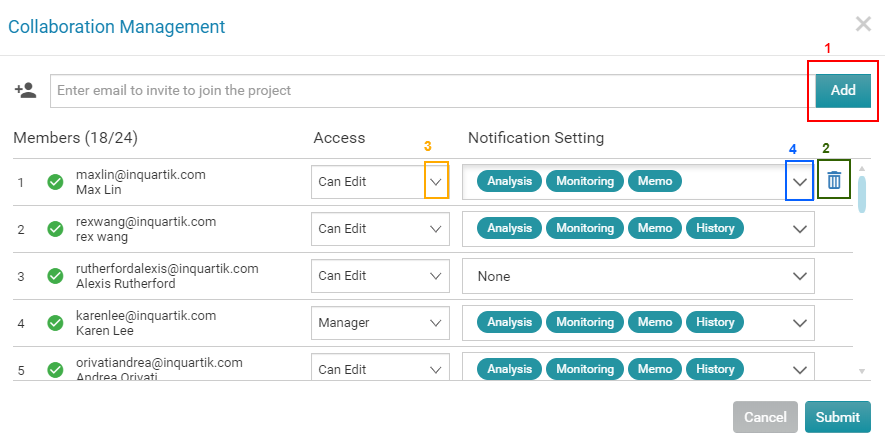 To add a member, enter a valid email address and click Add. It will display on the Member List together with the dropdown list of access permission options*. Once the new member has signed up and logged in to Patentcloud, the checkmark beside the number will change from gray to green.
To delete a member, hover the mouse beside the permission box and click on the Trash icon. Then, click Confirm.
To change a member's access level, click on the corresponding dropdown list of said members and select a new one. Then, click Submit.
To change a notification setting, click on the corresponding dropdown list and select the notification types required for said member. The default setting is Analysis, Monitoring, and Memo. Then, click Submit.
*Note: Be cautious when assigning 'Manager' permissions as Managers can change the access level of any of the members at any time.