Check for Validity Issues — Quality Insights


Check for any validity issues in a patent
You can obtain an assessment of a patent's quality using Quality Insights — a one-click solution to examine a patent's history, claim scope changes, and potential prior art references that can be used to challenge or invalidate the patent.

Simply proceed to Quality Insights from a patent's page in Patent Search or search for a specific patent on Quality Insights main page.


---

Manage Your Patent Data — Patent Vault


Do more with Patent Vault
Directly import selected patents into Patent Vault for more operations, such as:
Saving patent portfolios into customizable folders for clearer organization.
Conducting patent analysis with the PatentMatrix Dashboard.
Sharing Due Diligence reports with your colleagues.
Simply click on any number or point from within the charts to bring up the patent list, select the patents that you need and click "Save to Patent Vault" at the top left corner of the pop-up window.
You can customize the folder structure by year, company, or any other categorization type you require.
Likewise, you can import any folder in your Patent Vault project to conduct a Due Diligence analysis.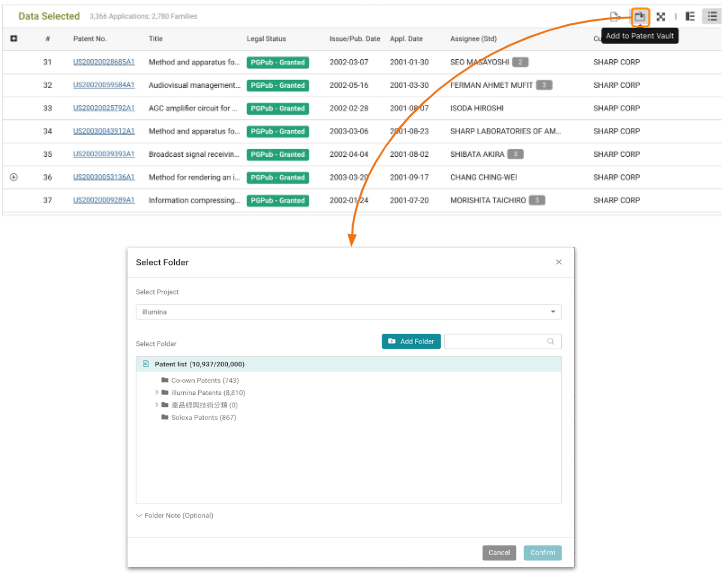 ---


Check Patent Info


Check patent details
Want to view a patent's details?
Click on a patent number in any of Due Diligence's patent lists to instantly access the Patent Page for full text, claims, simple/extended family, citations, event histories, and the original document. Litigation and SEP information is also available if the patent is involved or declared.