Ascertaining a patent's legal status is an essential part of any search — Legal Status Monitoring enables users to track the status changes of their selected patents. Exclusively for Patent Search Premium users and Patent Vault subscribers, this function allows users to receive email and system alerts when there are developments from pending, active, or inactive statuses.
To get started, go to the Project list and select the desired folder to use this function on.
To add Legal Status Monitoring, go to Folder Management and right-click on the folder to apply the function.

Create the settings as necessary.


Users can filter the legal status process of the patents to fine-tune the monitoring. The picture above is the default setting. Users can edit the legal status to their preferred settings, such as Pending → Abandoned, and pull out patents that match the status set up.


Click Monitoring Overview in the Automatic Monitoring tab to check out the legal status changes.

The overview of legal statuses will appear.


Monitoring Overview allows users to check which patents have been updated in terms of their legal status. Any updates to the patents are represented by green and grey (green represents new status updates and grey represents non-new status updates.)


Click on Legal Status to view a summary of changes in chart form.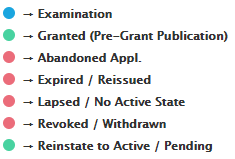 There are typically seven critical status types during the lifetime of a patent (from inactive to active and vice versa.) Legal Status Monitoring allows the user to prepare or make the next move on the patents that they are interested in.