The history page includes the following summaries:
Event History
The number shown underneath Event History represents the number of events up until this day — including Prosecution and Post-Grant Proceedings.
The following illustrates that patent US9606907B2 thus far has undergone four (4) IPR cases in addition to prosecution and one (1) ITC. It explains that the number of events in its history is six (6).

The timeline suggests that the application date was August 20, 2013, and the patent was issued on March 28, 2017, and has an estimated expiration date of July 05, 2030.
Each event may come with labels that highlight key stages during the events. In the example of patent US9606907B2, "RCE" (Request for Continued Examination) and "TD" (Terminal Disclaimer) were filed during prosecution. Furthermore, Cases IPR2018-00362 and IPR2018-00363 are in the "Final" stage.

The line of the Prosecution History — similar to the Post-Grant Proceedings cases — is dotted with office actions (OAs), the dates of which can be revealed by hovering the cursor over each event. Dark dots are referred to as "Rejection Documents" in the Prosecution History. In the Post-Grant cases, dark dots represent "Petition" and "Decision."

If the dots form a cluster, users can zoom in on the clustered area by moving the cursor over it.

To zoom out, simply click on Reset Zoom.

In the Prosecution History, file wrappers corresponding to the OAs can also be found in History Summary — where prior art references cited by examiners or petitioners on the legal basis of double patenting, § 102, § 103 main (1st) and pertinent patents are highlighted.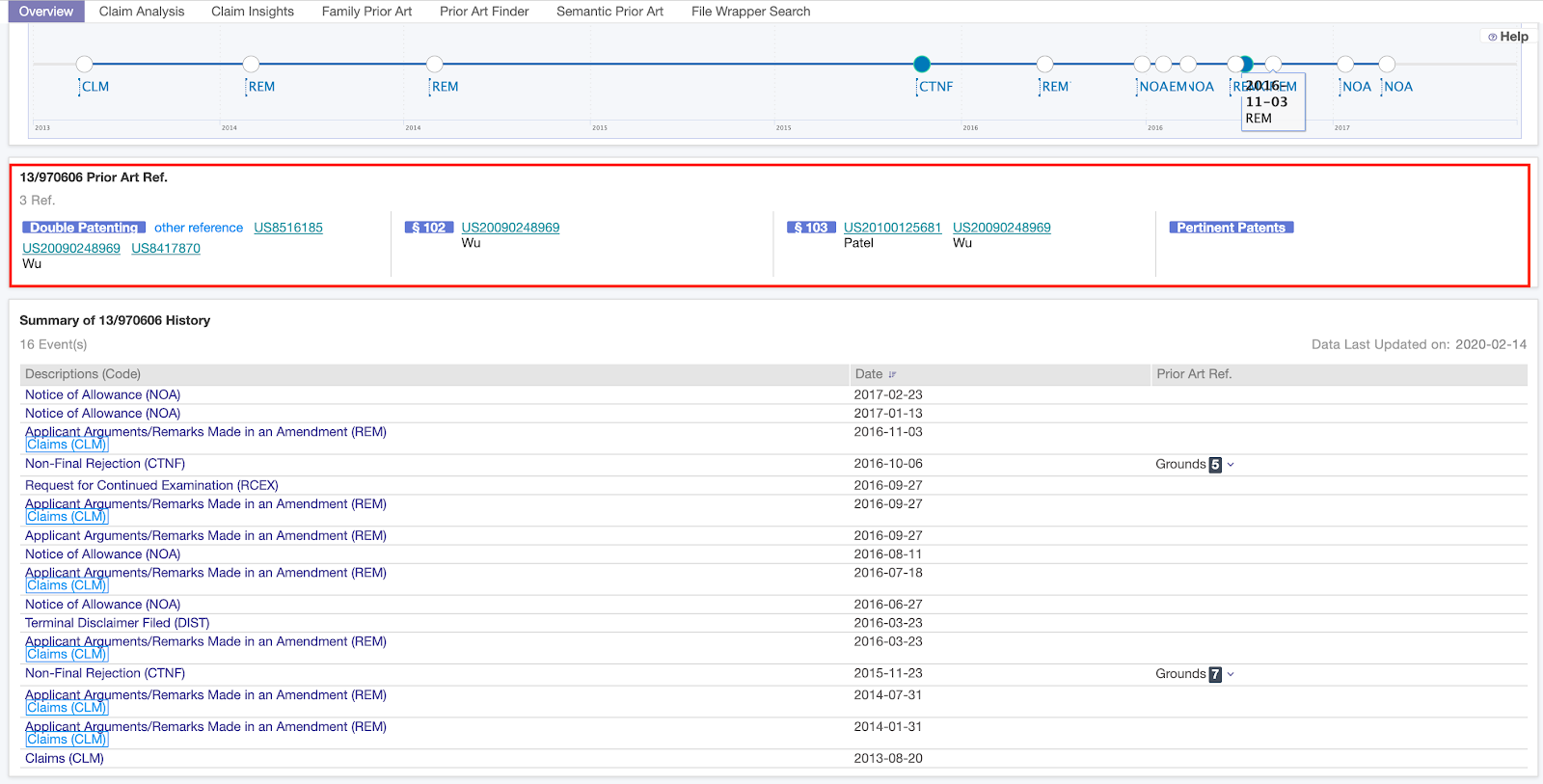 To find out more about Non-Final Rejections (CTNF) and Final Rejections (CTFR), click on Grounds. The number next to Grounds suggests how many grounds on a legal basis qualify rejections by examiners or petitioners against which claims.
Users can click on prior art patent numbers to study the patent information such as Current Assignee, Legal Status, among others. Please refer to the Patent Page in Tips.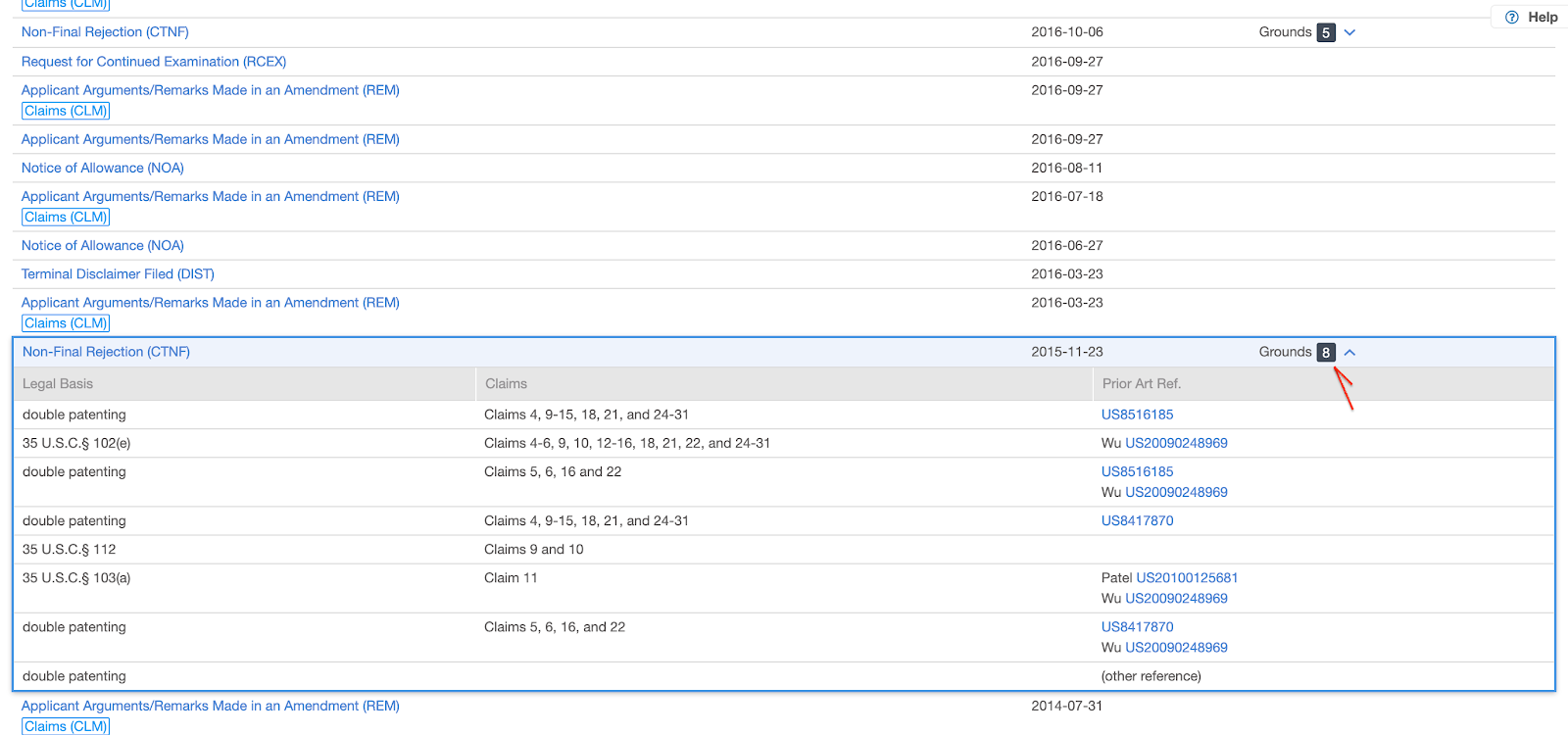 Each OA is clickable to its corresponding file wrapper; whether it's CTNF, REM, or NOA, Quality Insights offers not only the .pdf file but also a text-searchable format. In addition, both files are aligned side by side for ease of use. Similarly, docket entries of Post Grant Proceedings can do the same in terms of having the .pdf and text formats aligned side by side.
Using the Highlighter function, users can search for keywords, terms, or phrases to quickly locate the paragraph(s) they're looking for.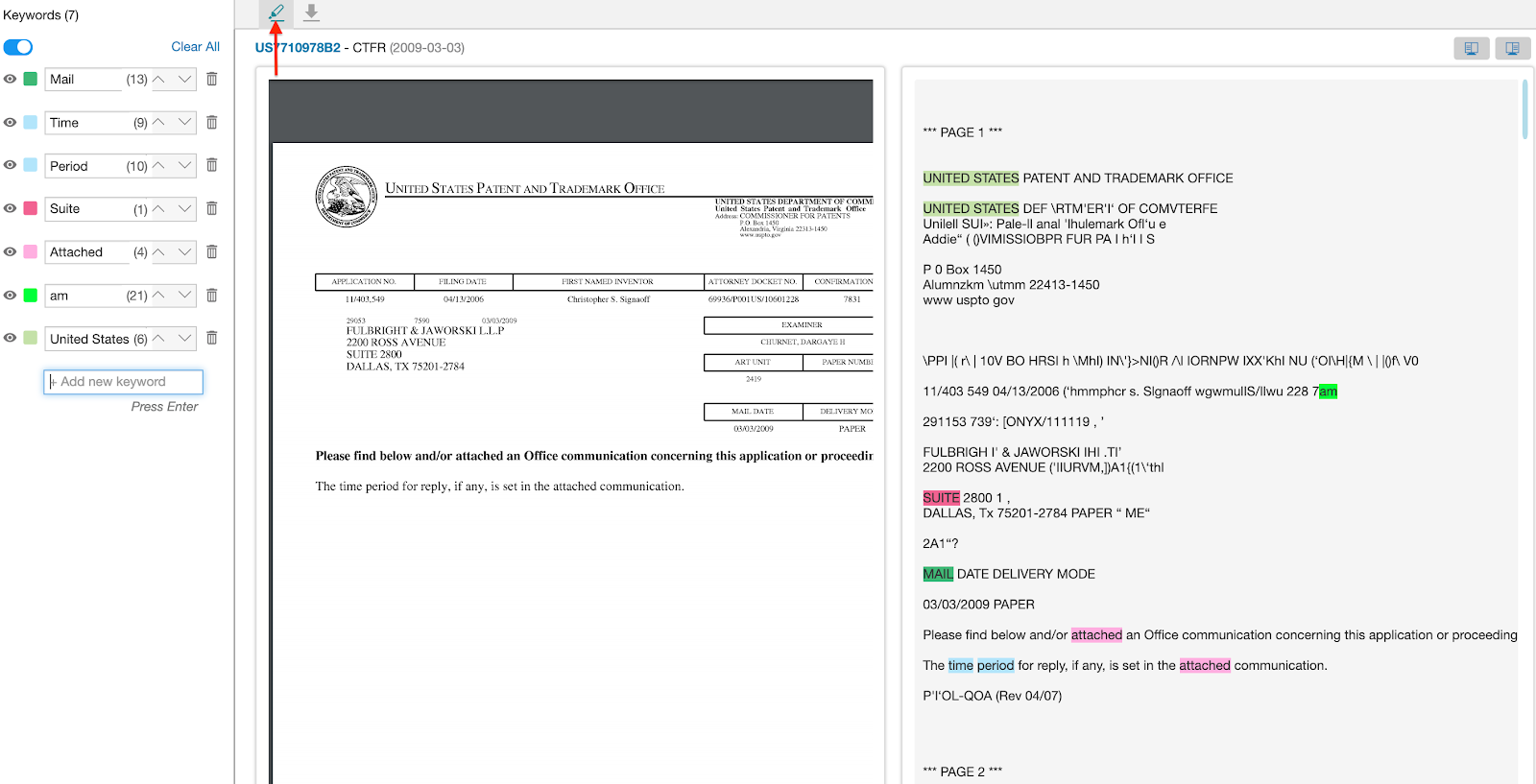 To view the original version, users can hide the OCR (Optical Character Recognition) version and further zoom in and out or even turn the .pdf version around.
To Download or Print, simply click on the corresponding icon found in the top right-hand corner. Users can even Bookmark this file for later.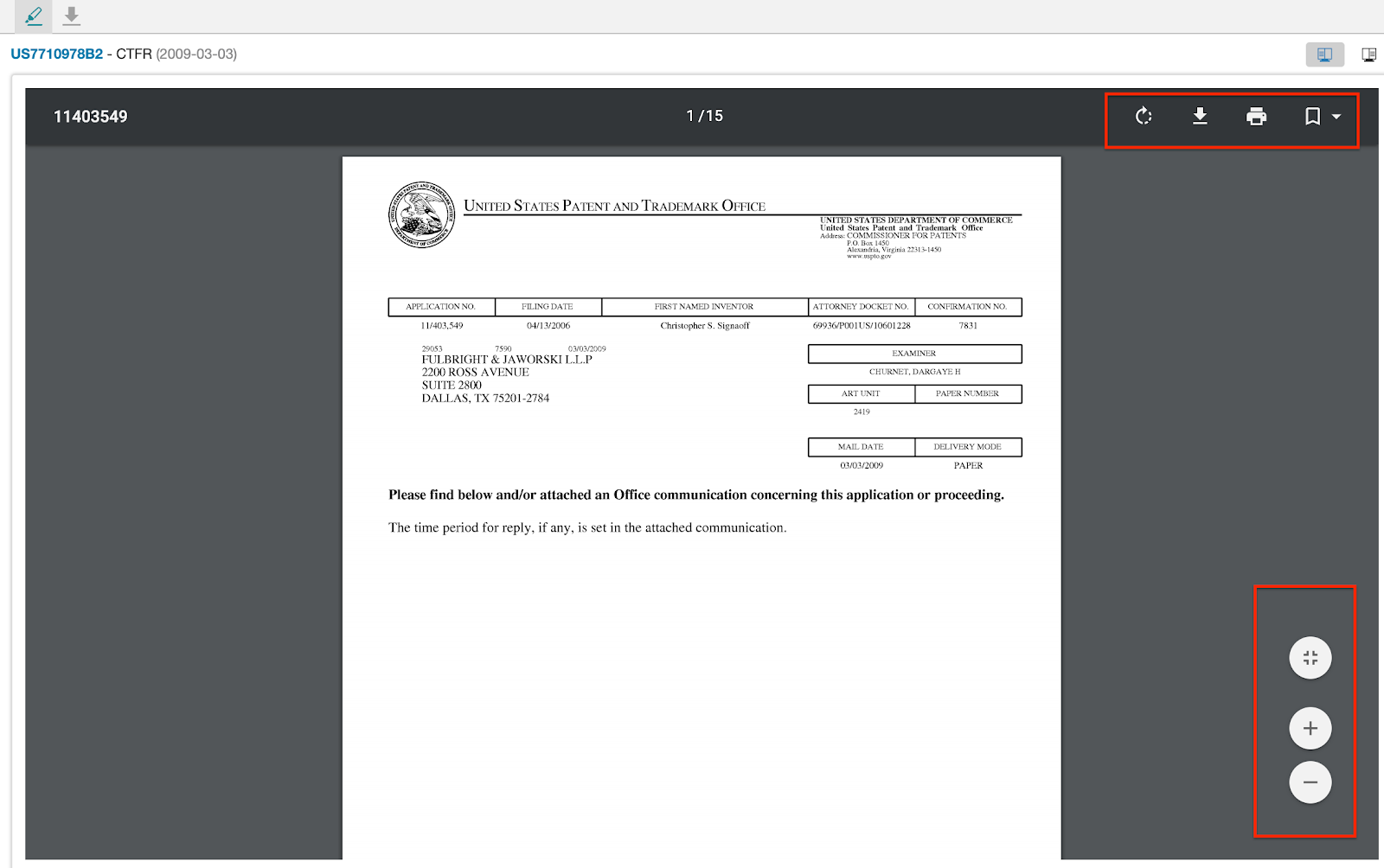 Family Status
The Family Status map provides a summary of all the family members by legal status, including "Abandoned Appl," "Active," "Pending," and "PGPub."

The following chart illustrates that WO2007/121243A9 — the family counterpart of US7710978B2 — was abandoned during application. Click on the patent to learn more about its abandonment date and reason for abandonment.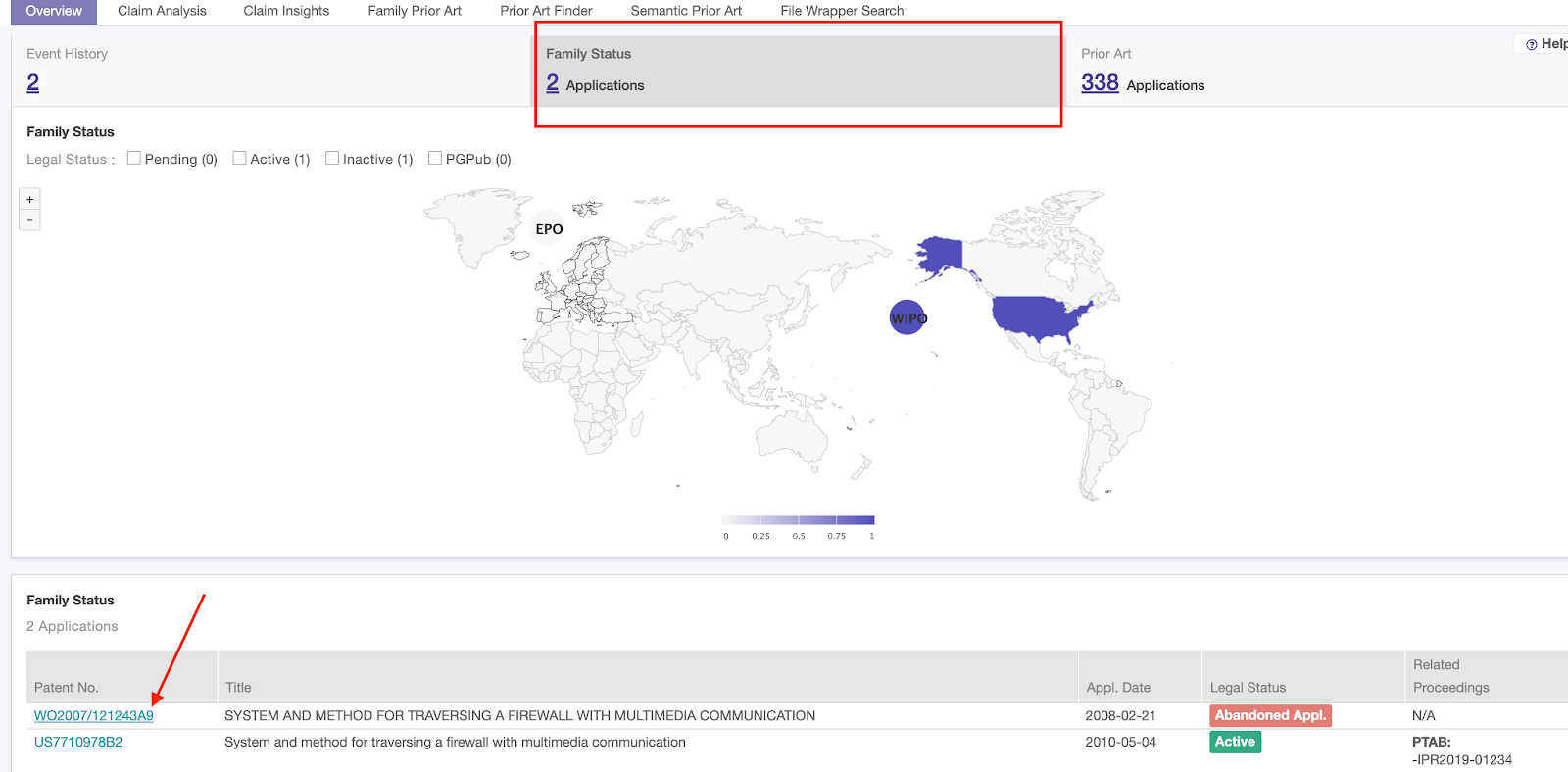 For retrieval of family members in one or more particular legal statuses, check the Family Status box(es).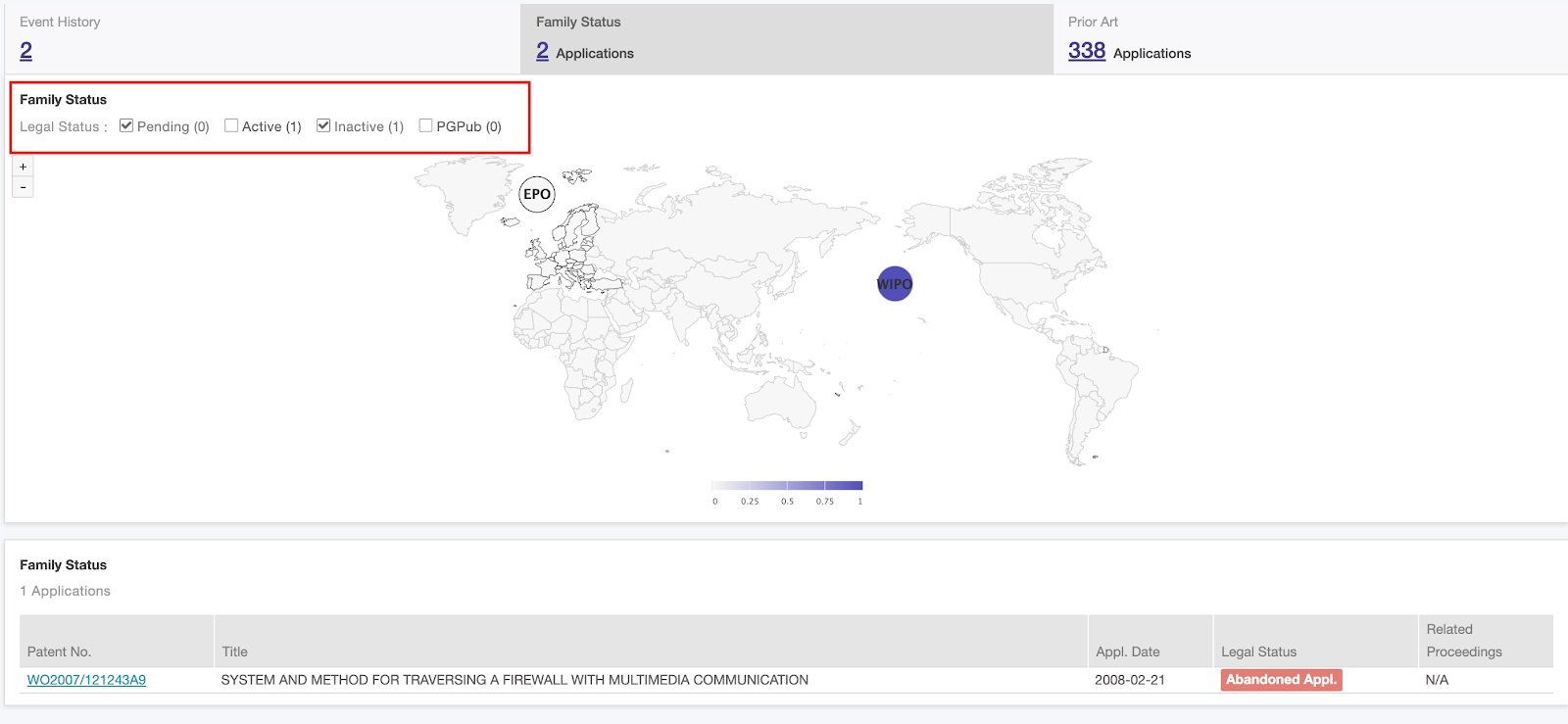 Similarly, users can go to Family Prior Art for the overall family members in List View, Summary View, or Gallery View.
Prior Art
A summary of the prior art is provided as a bar chart. Each bar represents the number of an art source identified by Quality Insights in relation to the patent at issue, including CTNF and CTFR in Event History and Prior Art Finder, European rejection prior art in Family Prior Art, and cross-linguistic prior art references in Semantic Prior Art.
The following illustrates the summary of prior art references relevant to US7773588B2. As ten (10) rejection prior art references were cited by the US examiner, 65 backward citations were found in Family Prior Art, together with six (6) First Degree Art, 30 Second Degree Art, and 258 relevant Semantic Prior Art. In addition, four (4) Non-Patent Literature references were cited. Please note that each bar is unclickable. For more details, visit the corresponding tabs.