SEP OmniLytics provides three exclusive filters for Standard Essential Patents — identify qualitative patents in just a few clicks.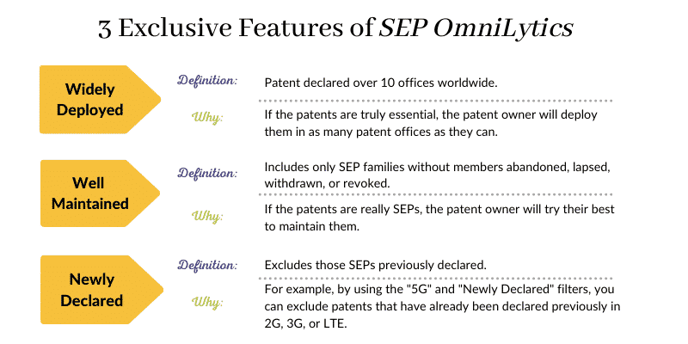 What is the Widely Deployed filter?
SEP OmniLytics' Widely Deployed filter includes only declared SEP families having active or pending members in more than ten jurisdictions. SEP families that are widely deployed reflect SEP owners' continued investment in prosecution and maintenance fees. This thereby highlights the essentiality of the SEP declaration through the SEP owners' actions.
In conducting competitive intelligence, this filter allows users to observe the most-followed SEPs in the industry, their working groups, and technical specifications.
What is the Well-Maintained filter?
SEP families in SEP OmniLytics without any abandoned, lapsed, withdrawn, or revoked members are viewed as "well-maintained." The Well Maintained filter highlights SEPs with higher quality and essentiality based on the SEP owners' self-evaluation. The statuses of active members prove that the SEP owners did not encounter challenges during prosecution that they could not overcome. They also show that the SEP owners did not abandon the applications and maintenance of the SEP families due to quality or essentiality issues.
In conducting portfolio assessment -- especially for SEP licensing — licensees can challenge a SEP owner (potential licensor) on the essentiality and quality of the SEP portfolio if it is not "well-maintained."
The Well Maintained filter can also be utilized for competitive intelligence in filtering over-declaration issues. Users can single out SEP landscapes with potential essentiality or quality issues that are otherwise difficult to perceive through behavior data only.
What is the Newly Declared filter?
The Newly Declared filter in SEP OmniLytics includes only those SEPs that have not been previously declared under a certain radio technology. This filter allows users to examine SEP declarations that were only declared during a specific radio technology generation — such as LTE or 5G.
Read more: SEP OmniLytics — Revealing the True Status of Standard Essential Patents.